[video]http://cnn.com/video/?/video/world/2011/01/06/spellman.haiti.then.now.cnn[/video]
-- In some places in the Haitian capital, it's difficult to imagine a year has passed since a massive earthquake wrought unfathomable destruction and misery. The evidence still lies in heaps of rubble and in the words of people -- almost everyone can tell a story of survival.
On the first anniversary of that wretched day, CNN returned to places that became iconic images of Haiti's horror to see what had changed, and what had not.
The cathedral: Worship among the ruins
The sun is rising in a cotton candy sky when the people begin to come.
They stop by the crucifix still standing near what used to be the main entrance. They raise their arms, make the sign of the cross, clutch the remnants of the cast iron fence.
Before them lies a carcass of a cathedral.
In one year, it has not changed: Mounds of pink and cream-colored concrete contain twisted steel rods, jutting out here and there like medieval weapons. Shards of red carpet and shattered stained glass lie strewn about the rubble. Plastic flowers. Even a porcelain bathroom sink. The roof collapsed completely, letting sun and rain take its toll on the sanctuary.
What took 30 years to build came tumbling down in 35 terrifying seconds.
The house of God is gone. But not faith.
On every Sunday since "the catastrophe," the congregation has amassed in front of their beloved Cathedrale Notre Dame de L'Assomption. Some bring plastic or folding wooden chairs; there is no place to sit. Others bring umbrellas; there is no roof for shelter.
Among them is Pierre Richard Vinson, 54.
On January 12, when he looked up from what was left of his home, he could no longer see the dome of the cathedral. The next day, he came here and cried.
He had attended mass at the cathedral since he was a little boy. After the earthquake, after he lost his house, lost his job, lost every remnant of his life, he heard others say: This is what God did.
He, too, thought at first that perhaps this was God's wrath. How could God let his people, who have already endured so much, suffer like this?
But as the months wore on, he looked inward for strength. He began stopping at the cathedral every morning, before he headed downtown where he earns a few dollars every now and then negotiating deals for people looking for auto parts.
At home, he has six children to feed.
"Dear God," he prays here every day. "Forgive me for my sins. I am your son. After all that happened, you gave me my life, you gave me my health."
Vinson says this is the only place in Port-au-Prince where he feels calm.
Father Glandas Toussaint echoes Vincent's sentiment to the people who have gathered on this Sunday morning.
Forget your suffering while you are here, says the priest, his voice booming through loudspeakers set up in the park in front of the cathedral's rubble.
"We will be happy."
The cemetery: A sense of duty to the dead
If there is a man in Port-au-Prince who knows the dead, it is Alexandre August. His title, something out of a seedy New Orleans crime novel, is simply this: cemetery inspector.
He is not even sure what he inspects anymore. The nature of a death? How one is bid farewell? Whether a soul is able to rest in peace?
August knows only that he has not been paid by the government for seven long months. He continues out of a sense of duty to his troubled homeland.
That's exactly what kept him going a year ago, when the Grand Cimetiere in Port-au-Prince became a morbid scene, evidence of the earthquake's chilling toll.
August walks the main promenade of the centuries-old cemetery, among noblesse and commoner alike. Frenchmen, Spaniards, mulattos and blacks. Even an American or two are buried here in crypts.
The day after the earthquake, the trucks began arriving. Not one or two, but 25 or more. Each carried a mountain of bodies -- blistered, bruised, burned, broken.
August smelled rotting flesh. He saw maggots.
Wearing face masks and latex gloves, he and his staff of about 70 worked for four straight days, taking a break only to sleep at night. The Port-au-Prince mayor, he says, told them it was OK to open the crypts, to remove the coffins and make room for Haiti's newest victims. New bones still covered with flesh lay side by side with bare bones that smelled of the earth.
August's staff dug deep holes inside the crypts. In one belonging to an army general named Vir-Hugo Lherrison, they buried 80 bodies.
The world condemned the desecration of the graves, but August views it differently.
"What choice did we have?" he asks.
"God gave me strength to do my job but it was very hard. This was my way of helping my country."
August estimates that at least 25,000 earthquake victims found their final resting place here.
The crypts that were opened were eventually sealed with fresh concrete. You can tell because the slabs remain rough and unpainted. Each bears a crudely etched "X."
That's how you know that someone's mother or father, son or daughter, husband or wife is buried here. That's how you know they were killed in the earthquake.
To some, it may seem vulgar. But not to August.
And not to all the Haitians who will never know what happened to their loved ones on that day. So many were unceremoniously dumped in holes or burned on the streets.
At least here, in the cemetery, there is a marker.
The palace: For some, a symbol of shame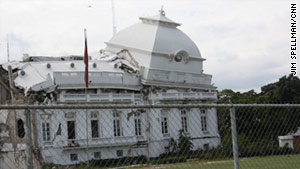 It was hailed as a beautiful example of neoclassical architecture, the White House of the Caribbean. It represented the identity of a people who freed themselves from slavery and colonialism. After January 12, it became the image of a country in ruin.
A year later, the presidential palace still stands as it did that day, the domes over each wing perched perilously atop the colossal white concrete structure, the midsection gone as though a bomb had blasted in its belly.
Like a soldier fallen in battle, the palace serves as a constant reminder of fury and suffering.
The walls that run along a kelly-green iron fence are marred with graffiti in Creole that say things like "Preval = kolera," a sign of discontent with President René Préval's government's handling of crises, including the cholera outbreak that has killed more than 3,000.
Haitians by the thousands walk past the monument to their nation's glory every day. They are on their way to jobs or to university or back home to the massive tent cities that sprang up along the wide avenue in central Port-au-Prince. People who have always been barred from entering the aristocratic palace now find utilitarian use for its walls. They hang their laundry there, to dry under a scorching tropical sun.
Some Haitians are embarrassed that it still stands, a flagrant display of their nation's failure to move forward. Bulldozers came in April to "stabilize" the structure. Preval even said France had offered to demolish the old and build anew.
Some still wish for resurrection.
Author and radio commentator Michel Soukar remembered the palace the way it was when he visited -- 65,000 square feet of grandeur, tall columns, arched entrances, crystal chandeliers and bronzed busts.
"Shock," Soukar says. "I still feel shock when I see it."
There were Haitian works of art, including an 1822 painting thought to be Haiti's oldest, in the building that had housed decades of despots, dictators and elected presidents.
There were also tales of secret magic doors beyond the black and white marbled rooms, lore that got embellished in the days of François Duvalier, who revived voodoo traditions and used their influence to consolidate his power.
Some Haitians speak of how Baron Samedi, the spirit of death, dances in the basement of the palace. Duvalier once stepped onto a balcony dressed as Baron Samedi in a top hat and tails to greet his supporters.
Many Haitians believe the palace still stands because of voodoo. One woman says she remembers seeing the shiny new tractors that came to raze the building, but their engines failed to start. Proper ceremonies have not been performed, she says, to bid farewell to the palace.
Haitians, says Soukar, have a tendency to interpret things through magic. It's more likely, he says, that companies are still fighting over the palace demolition contract.
Whatever the case, the broken palace still stands, haunting Haitians with its presence.
The tent city: 'We live like hyenas'
Opposite the palace, at Place Toussaint, Carlos Jean Charles huddles with his wife in a small shack made of plywood and corrugated tin. This is where he came January 12 when his apartment building tumbled. For him and thousands of others, this is the only home they have left in Port-au-Prince.
First he lived in the open, staring at the stars at night. Then he fashioned a tent and finally, when aid agencies handed everyone $50 last summer, he put together his shack.
About 500 families live squished together here in tents, shacks and under sheets.
They use portable toilets and draw water from a bladder supplied by a foreign aid agency. Women are forced to bathe in public, under the statue of the man the square is named for: Toussaint Louverture, the proud slave who rose up to lead a victorious rebellion against Napoleon.
Charles, the unproclaimed mayor of sorts of this tent city, shows off the statue of Louverture, gazing down sadly now upon another wave of Haitian misery.
A year after the quake, he, like other Haitians, speaks of his life with dispassion, almost as though he were recounting someone else's tale of sorrow. "I lost my mother, my cousin. The building collapsed. Nothing was left. I don't have anywhere to go."
He even lost his prized 1987 Cadillac.
He walks through the snaking alleys between the tents and shacks. He says hello to his friends and those who have become so by virtue of proximity: Marise Salazin, Farah Moise and Gloria Marselise, who just gave birth to a girl, right here in a shack, without a doctor or anyone remotely trained in the art of birthing.
After a hard rain, the air is cleansed and the ground is muddy, like peanut-butter.
Charles walks by a grocery called "The Boutique," where owner Losita Florial sells oil, soap and vegetables and tries not to dwell on the memory of a son who died in the earthquake.
Nearby, there is a cybercafe started by an enterprising Maxo Lombard. He charges 87 cents for an hour on a laptop with a hardwired connection. There is a barbershop, and another place to buy DVDs and cell phone batteries and make passport photos.
Most everyone did something else in their previous lives, before the catastrophe.
Charles used to work for the government tax office as a software programmer. Now he makes paintings, with seven other men in the tent city, to sell on the streets, mostly to the blans, the foreigners. Sometimes, they copy famous Haitian artists, like Celestin Faustin. Charles even copies Faustin's signature. He uses scraps of old tents and other scavenged materials to paint.
He might be the first man in Haiti, known for its artistic traditions, to tell you that he doesn't enjoy painting. There is no pleasure in it when you are forced into the profession.
"Look at this place," he says. "Is this any way to live? We live like hyenas."
He sent his two young children to live with his wife's family near Gonaives. If he could, he would go there, too, but there are few white people there to buy his paintings.
Instead, he marks time. On this afternoon, it has been 11 months and 1 day since the quake.
He is scared to leave his wife alone. He says women and girls are raped and abused in the darkness of night. He knows of girls who have been forced to sell their bodies in order to eat. They are young, but only in age.
One of them is 14-year-old Merline, whose family in the Cite Soleil slum threw her out for hitting her sister. She came to the tent city, looking for money. She meets men, she says, behind the movie theater, in dark crevices where "normal people are afraid to go. Sometimes, they beat me. Sometimes, they pay me," she says. "I usually ask them to use condoms."
Charles shakes his head, in disbelief that he lives in this reality.
Misery, he says, adds to misery. "It makes people fight," he says, showing a scar on his face. "Someone tried to kill me for my phone."
The government, he says, doesn't care about people like him. "I know Haitian politics. They like it when we are living like this."
More than a million Haitians displaced from their homes by the earthquake are still eking out lives in tent cities once thought to be strictly temporary.
Charles puts a few drops of chlorine bleach into the water supply at his shack. Now there is another worry: cholera.
He fears that the day when he can leave this place is still far in the future. He hopes that when it comes, he will be able to remember how to live like a human being.
Until then, he walks -- from Place Toussaint, uphill to distant neighborhoods like Petionville. He is a man without destination. He walks to forget.