When his wife was out of the town he evidently shot and murdered their 2 children, the pet dog then himself? Very questionable!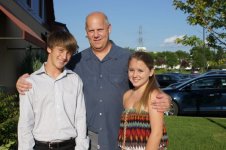 Phillip Marshall has been identified as a former pilot for Eastern and United airlines. He self-published a number of books, including at least two about his 9/11 conspiracy theories: "The Big Bamboozle" (February 9, 2012) and "False Flag 911: How Bush, Cheney and the Saudis Created the Post-911 World" (July 29, 2008).

A previous novel published in 2003, "Lakefront Airport, New Orleans," detailed his claimed experience as a pilot for the US during Iran/Contra.

In his books and his social media bios (including multiple Facebook accounts, his Twitter account and a Tumblr), he claims to have served as a contract pilot for the CIA's Special Activities Division during the Iran-Contra affair, flying shipments to and from Nicaragua.

He appeared on "outsider truth" shows like Coast to Coast to promote the theories in his books that 9/11 was an "inside job," the result of a plot between the US government and the Saudis.

From his author bio on Createspace.com, Amazon.com's self-publishing service:

Philip Marshall, a veteran airline captain and former government "special activities" contract pilot, has authored three books on Top Secret America, a group presently conducting business as the United States Intelligence Community.

Beginning with his role in the 1980s as a Learjet captain first as part of a Drug Enforcement Administration (DEA) sting on Pablo Escobar, and later in the covert arming of the Nicaraguan Contras, Marshall has studied and written 30-years worth of covert government special activities and the revolving door of Wall Street tricksters, media moguls, and their well funded politicians.
Source:
http://boingboing.net/2013/02/04/for...-conspira.html