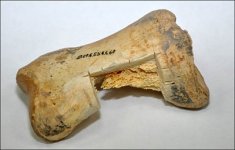 More proof we are not told the truth about history.
The site of some of the world's most important finds pertaining to early humans, the cave has yielded numerous prehistoric treasures over the years including the remains of an early human subspecies that lived 640,000 years ago.

Now experts believe they have uncovered the mitochondrial genome of a horse that lived 50,000 years ago, a discovery that could represent the earliest known attempt at equine domestication in history. If this turns out to be the case then it would pre-date all existing evidence of horse domestication by up to 44,000 years.

Experts aim to discover the horses's coat colour as well as how it related to early man. Picture:*Media Centre of the Siberian Branch of Russian Academy of Sciences.
More:
http://siberiantimes.com/science/cas...000-years-ago/