I will share something Funny to everyone here just to remove the bad vibe regarding the ILLUMINATI REPTILIANS who seek to conquer the whole world. LOL!
It is not surprising that the Reptile likes eating Human flesh. However let me also say that ASIAN countries likes eating the reptile flesh anything that is cold blooded either they say its poisonous we already have the culture how to cook those cold blooded animals.
It is not surprising that the Philippines have unusual diets either in the city or in the local province. Here are a few examples of the reptile we capture and cook it in a delicious food: and take note if the reptilian bloodline likes drinking blood we also like drinking fresh snake blood, So the game here is who gets first to eat.
PULUTUAN means snack while consuming booze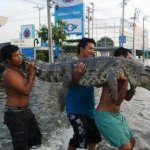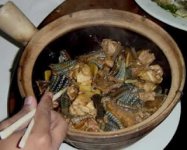 so just incase if they like to conquer asia. the total estimated population of the Philippines this year 2012 is about 103,775,002. Philippines ranks as the 12th most populated country in the world and China as being the undisputed no. 1 most populated country.
We are not scared of you we are to many enough to consume each one of you and china also has a unusual diet that we have and china is the undisputed no. 1 most populated country. So beware reptilians if that kind do exist..