"There is a difference between Education and Conditioning. Education is being taught HOW to think, whereas conditioning is being taught WHAT to think. What we CALL our "Education System" is nothing more than conditioning. - Lady of Light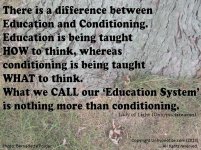 Our schools, our education system conditions us to repeat and remember things that our parents and their parents, our teachers and their teachers, and all scientists (even ones that have been proven wrong), that they have all been taught before them. Our schools are run by corporatism, and they are not to make us more intelligent, they are used to condition us to be slaves in the capitalist system that is in place.
True education teaches us HOW to think, how to question everything that we are taught. True education never ends, it continues throughout our entire lives. True education will never teach anything as 100% fact, take it as it is because it's true. No, true education teaches us to strive for other answers, other possibilities for everything, to never accept anything as the end-all-be-all.
Conditioning forces us to believe, where education allows us to find other answers.