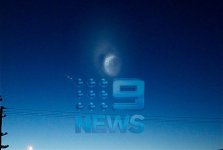 http://news.ninemsn.com.au/technolog...tern-australia
Scores of people across Australia's east coast say they saw bizarre yellow-green light zooming across the sky "like a lollipop swirl" early this morning.
The light trail was seen between 5.45am and 6am by people in Canberra, Sydney's north shore and Queensland, ABC News reports.
PHOTOS: Spiralling 'UFO' seen over Australia
9NEWSWATCH: Did you see the light?
Several ninemsn readers said they saw the mystery light.
"It was moving west to east with a jumbled electronic sound," Jim White said.
Hayley Farry said she and a group of friends saw the light while out jogging.
"It was really weird, like nothing else I had ever seen before," Ms Farry said.
"We were trying to guess what it may have been, we were convinced it certainly was not normal."
ABC Radio Brisbane 612 caller Linda said the light travelled from the west, headed east and then out to sea.
"There wasn't a cloud in the sky