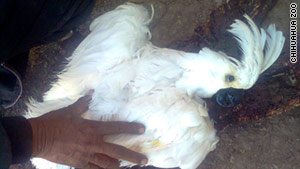 -- An icy cold front that swept through northern Mexico over the weekend left 65 zoo animals dead, the zoo's owner told CNN on Monday.
Parrots, crocodiles and peacocks were among the victims of temperatures that dropped as low as 5 degrees Fahrenheit (minus 15 degrees Celsius) early Saturday morning at the Chihuahua Zoo in the city of Aldama, about an hour north of Chihuahua.
The alarming number of deaths, which represents about 10% of all of the zoo's animals, was the result of several compounding factors, owner Alberto Hernandez said.
First, the temperature dropped unexpectedly, and the area's civil protection agency did not send out an advisory for the extremely cold weather, Hernandez said. So zookeepers did not take extra precautions before leaving work Friday night.
Second, the inclement weather knocked out electricity to the zoo, causing the heaters and heating lamps throughout the location to cease working, he said. Without electricity, the night watchmen turned on the gas lines.
"They turned on the gas heaters and left it at that, but they didn't know that the gas lines had frozen," Hernandez said.
It wasn't until 6 o'clock the next morning, when an emergency generator was turned on, that zoo officials became aware of the devastation.
What they found was a menagerie of dead animals: one Capuchin monkey, 14 parrots and parakeets, 12 snakes, three crocodiles, five iguanas, 10 peacocks, and 20 hens.
"There were lots of factors that led to this accident happening," Hernandez said. "We are accustomed to extreme weather, but nothing like this."
The Capuchin monkey, named Botitas, or Little Boots, was just 6 months old and had been born at the zoo. His parents, including his father, Boots, had been brought from Central America.
The zoo was left with no more crocodiles following the losses. The three crocodiles that died were originally from the Mexican state of Sinaloa.
The zoo faced other challenges. Frozen water pipes meant that hoses couldn't be used to fill animals' food bowls. Warm water had to be brought in from outside, Hernandez said. Additional workers were brought in to care for the caged animals that required the most help.
They were also able to save other animals from dying of hypothermia. Two other monkeys were freezing, but were saved, Hernandez said. A stallion was also recovering from the cold.
Electricity was not restored until Sunday, he said. Nonetheless, the zoo opened for business as usual Monday, though Hernandez said he expected an economic hit from the loss of the animals.
"It's impossible to be prepared for something so unpredictable," he said.