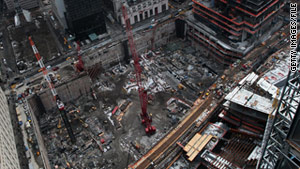 -- A lucky band of ground zero construction workers scored a $250,000 prize in a Christmas Eve Mega Millions lottery drawing, picking five of six numbers correctly, the New York Lottery says.
The 18 men, who work at the World Trade Center site in Lower Manhattan, say they ran a workplace pool in which each of them chipped in $5.
The group got a check for $165,075 -- after taxes -- which left each man pocketing $9,170.
They "couldn't believe it at first," said John Kennedy, one of the 18. "We thought we were getting our legs pulled."
Kennedy said he accepted the groups' second-place prize December 27 on behalf of his co-workers at the Lottery's New York Customer Service Center in Manhattan. "It was a nice little Christmas bonus for all of us," he said.
The group used the Lottery's "quick pick" option and received the numbers 15, 16, 27, 40 and 52, with a Mega Ball of 18. Only the Mega Ball number was wrong -- it came up 16.
"We were just two digits away from winning the mega prize," Kennedy said, calling it "a nice little Christmas bonus for all of us."
The 47-year-old carpenter said some of the workers will pay off debt, but he's planning a trip with his wife to the Bahamas.
Mike Perrone, 48, said he plans to pay off Christmas bills, while Brian Lyons, 50, said he will celebrate his 20th wedding anniversary with his wife in Italy.
"Second place is fine with me," Lyons said.
No one matched all the numbers in the Mega Millions Christmas Eve drawing, and no one won the jackpot in the following two drawings, either, allowing the top prize to climb to $380 million for the Tuesday drawing this week. Two winners matched all the numbers in that drawing, a Washington state man and an Idaho person who has yet to come forward.
Lottery rules require that any group of winners that includes more than 10 people must set up a corporation to distribute the funds.
"We were flabbergasted," said Brian O'Dwyer, a senior partner at a Manhattan law firm that set up the corporation for the workers at no charge. "These are American heroes trying to rebuild ground zero."
The odds of winning a second-place prize are 1 in 3,904,701, according to the Lottery website.
The group was one of 11 second-place prize winning tickets sold in New York and announced this week.