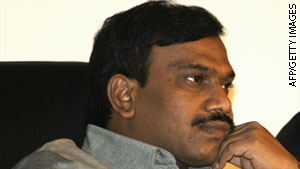 Premises belonging to relatives of former telecommunications minister A. Raja were among those raided.
New Delhi, India -- India's Central Bureau of Investigation staged a series of raids at the homes and offices of people at the center of a national telecommunications scandal, a CBI official said.
Early Wednesday, more than a hundred CBI officials searched the premises of prominent lobbyist Niira Radia, former telecommunications regulatory chief Pradeep Baijal, and relatives of former telecommunications minister A. Raja.
"There are 34 searches going on today, seven in Delhi and 27 in Tamil Nadu," CBI's spokeswoman Vinita Thakur said.
These raids come after recordings of phone conversations between a prominent lobbyist, top journalists, top industrialists and politicians were leaked in late November.
The "2G scam" as it is known in India, involves former telecommunications minister A. Raja underselling mobile phone licenses in the world's fastest growing mobile phone market.
The leaked audio tapes, which were recorded in 2009, reveal lobbyist Niira Radia asking journalists Barkha Dutt of NDTV and Vir Sanghvi of the Hindustan Times, to mediate with the ruling Congress party about cabinet posts.
The tapes suggest Radia was lobbying for Raja to continue in the post as telecommunications minister after the 2009 elections, and both journalists agreed to help.
Indian auditors say this cost the country some $40 billion in lost revenues as the mobile phone licenses were sold at prices set in 2001 under Raja's watch.
Raja was forced to resign last month, but the scandal has snarled parliament for the past three weeks as recriminations fly across party lines.
India's opposition party has announced it will hold a nation-wide rally against corruption on December 22.
Radia's public relations firm represents two of the country's wealthiest businessmen Ratan Tata and Mukesh Ambani.
These raids come just a week after Raja's homes in Delhi and Tamil Nadu were searched.