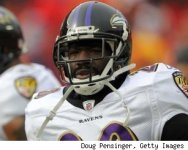 KANSAS CITY, Mo. -- In the center of Sunday's postgame hoopla stood Baltimore Ravens safety Ed Reed. Despite a heavy heart, the Pro Bowl safety provided a heavy hand in his team's 30-7 road roughing of the Kansas City Chiefs at Arrowhead Stadium.
Now the Ravens had something for their grieving star and his family.
A game ball.
Reed, holding his emotions in check, accepted the gesture with just a few words.
"On to Pittsburgh," he said. "That's what my brother would want."
--------------------------------------------------------------------------------
Ravens 30, Chiefs 7: Quick Hits | Box Score
More: Reed's Brother Goes Missing After Fleeing Police
Watch: Ed Reed Rocks Dexter McCluster
--------------------------------------------------------------------------------
Reed's younger brother, Brian, has been missing since Friday after fleeing police near New Orleans and jumping into the Mississippi River. Authorities stopped the 29-year-old after he nearly ran a vehicle off the road, in what they believed was a stolen car. Brian Reed, who has struggled with alcohol and drug abuse, broke free just before being handcuffed and escaped into the river.
Police called off their search Saturday after finding Brian Reed's jacket and shoes.
On Sunday, Ed Reed put on his jersey and cleats.
"For now, you just want to keep him on the field as long as possible. At least that gives him something else to think about."
-- Derrick Mason on Ed Reed He did it for his second family.
Said Reed: "My other brother called me and told me, 'Do what you do. You handle your business, we'll take care of everything over here.'"
Reed took care of it all like the Ravens took care of him. And the Chiefs.
"There isn't a better teammate than Ed Reed," Ravens linebacker Terrell Suggs said. "He didn't have to play (Sunday), but he chose to play. It was a simple fact that we wanted to give him an outlet."
The veteran and playoff-savvy Ravens may not have needed Reed's inspiration to win Sunday -- not as poorly as the Chiefs played in losing a NFL-record seventh straight playoff game. But it's hard to believe his presence didn't impact this great and proud defense.
"For now, you just want to keep him on the field as long as possible," Baltimore wide receiver Derrick Mason said. "At least that gives him something else to think about. When this is over, that'll be the hard part. But we hope it won't be over until February."
If the wild-card rout of the Chiefs provided a necessary distraction, a divisional-round showdown against the rival and hated Steelers next week at Heinz Field should make for an even greater release. The Ravens earned their third straight venture into the postseason's second round by scaring the shoulder pads out of Chiefs quarterback Matt Cassel in his playoff debut and holding the league's No. 1 rushing attack in check.
Some numbers:
• Cassel, who played his worst game of the year a week earlier in the season finale against Oakland, hit just 9 of 18 passes for 70 yards, three interceptions, three sacks and a 20.4 rating. Cassel threw just seven interceptions all season and were one of the best teams at taking care of the ball. Against the Ravens, though, they turned it over five times.
• Chiefs tailback Jamaal Charles, the league's second-leading rusher with 1,467 yards in the regular season, had a 41-yard touchdown dash to give his team an early 7-3 lead, but finished with just 82 yards. His most dangerous teammate, Pro-Bowl receiver Dwayne Bowe, the league leader with 15 touchdown receptions, did not catch a pass.
• Kansas City was held to eight first downs and just 1 of 8 on third-down attempts. The Chiefs ran just 40 plays total (nearly half as many as the Ravens' 78) and completely fell apart in the third quarter, turning the ball over three times and getting stopped on fourth-and-1 from the Baltimore 32 when trailing just 10-7.
"We just did too many things to get you beat," Chiefs coach Todd Haley said.
The Ravens made them.
Remember, this is a team that is now an all-time 7-3 on the road in the postseason. Baltimore has hopped on a plane and ousted a host team and division champion each of the last three seasons, but this one had a little different look about it.
In addition to that devastating defense we've grown so used to watching -- and, yes, Ray Lewis was right in the middle of it all with four tackles, a sack and forced fumble -- the Ravens got a career playoff performance from third-year quarterback Joe Flacco, who was everything Cassel was not. Namely, poised and polished.
"I'm a little biased," Lewis said. "But I like Joe Flacco a lot."
On this day, for good reason. Flacco went 25 of 34 for 265 yards, two touchdowns and no interceptions. He had receivers wide open at times -- especially tight end Todd Heap, who caught more passes (10 for 108 yards) than Cassel had completions -- but Flacco also squeezed some balls into tight spaces; the kind of spaces he can expect to see next week in Pittsburgh.
"It was a really good team victory," Flacco said.
A really emotional one, too.
The sight of the Ravens' sideline firing up when Reed rattled rookie running back Dexter McCluster with a textbook tackle was a telling moment. Reed got his outlet, all right.
"What Ed is going through, what the Reed family is going through, was a big part of this victory," Harbaugh said. "I think that's what we remember. We're a family and the Reed family is part of the Raven family. ... For Ed to do what he did under the circumstances -- to play the way he played, to lead the way he led -- it's just an incredible thing."
Now, imagine the passion and intensity next week.
The Ravens defeated the Steelers in Pittsburgh in Week 4, while Ben Roethlisberger was serving his five-game suspension. The Steelers returned the favor at Baltimore in Week 13, forcing a late turnover and winning a game that ultimately decided the AFC North in Pittsburgh's favor.
Maybe this meeting was just meant to be.
"I don't know if it's the way it should be, I think it's just the way it ended up," Lewis said. "Guess what? Round 3. Here we go again."
Like Reed said.
On to Pittsburgh