I have now decided to offer my services live for parties and gatherings in my own area. If you live in Windsor or Essex County, I can come to you for readings. I will work all kinds of parties and gatherings, for example, Birthdays, Barbecues, Stag & Doe, Baby Shower, etc. I will even do single readings.
If you want to recruit my services for your occasion, please contact me to book an appointment. (See ad below for details.)
Prices begin at $50. (Base price includes most travel expenses. Prices vary based on travel distance and number of people to be read as well as other factors.)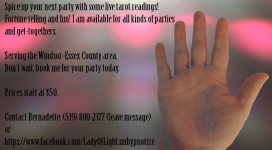 Thank you in advance for choosing to use my services as a Psychic and Tarot Reader.