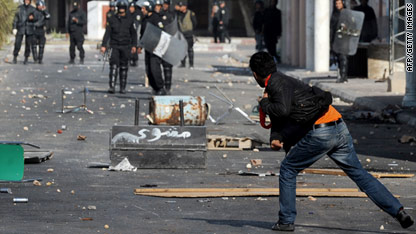 [video]http://cnn.com/video/?/video/world/2011/01/11/maktabi.tunisia.riots.cnn[/video]
-- The protests that have gripped Tunisia in recent weeks are, to say the least, unusual. Organized dissent in the streets is rarely tolerated in Arab states, and human rights groups say the Tunisian government has had a short fuse when dealing with opponents. But what's going on in Tunisia is all the more unusual because the protests are being organized and supported through online networks centered on Twitter and Facebook.
So prolific are the educated members of the northern African nation's younger generation online that it has become a top priority of the Tunisian government to block and disrupt bloggers and others perceived as opponents.
The U.S. State Department -- in an unusual public criticism of a pro-West Arab government -- said last week it was concerned about "recent reports that Tunisian ISP providers, at the direction of the government, hacked into the accounts of Tunisian users of American companies including Facebook, and providers of email such as Yahoo and Google, and stealing passwords. This kind of interference," it continued, "threatens the ability of civil society to realize the benefits of new technologies."
The Committee to Protect Journalists says it has evidence that log-in details of Tunisians are being intercepted. "Individuals have reported that these sites' pages have either been blocked entirely, or been manipulated to include malicious code that collects private usernames and passwords and then relays them to the [Tunisian Internet] Agency. The accounts of bloggers and journalists have subsequently been broken into using these stolen credentials." On Wednesday one prominent blogger, Messou T7Essou, posted that his blog was being censored.
The protesters have been quick to mock the government's efforts to stifle them -- with slogans like "Free From 404" [Internet language for "file not found"] abounding online and in the streets. Activists like Lina Ben Mhenni have posted photos and video of the protests and of some of those killed in the demonstrations. Ben Mhenni, who uses Twitter and Facebook and has her own blog called "A Tunisian Girl," posted photos Monday of five people she describes as the "martyrs of Erregueb." Regueb is a town in the Tunisian province where clashes between protesters and police broke out on Monday. Another blog (largely in French) called Nawaat included video of students in Tunis this week organizing themselves into the shape of the Arabic characters spelling Horriya or "freedom."
And in retaliation for the Tunisian government's action, activists of the loosely organized hacking group Anonymous have carried out denial-of-service attacks on websites associated with the Tunisian government. (Anonymous also attacked websites of companies that declined to do business with WikiLeaks.)
Activists have also been uploading videos of demonstrations to YouTube using the hashtag #sidibouzid (the province where the demonstrations first began last month), despite the Tunisian authorities' banning of YouTube in November 2007. One that appeared Wednesday showed what appeared to be several hundred people -- mainly young, both male and female -- chanting slogans in the city of Sfax. Another, running 12 minutes and posted on "A Tunisian Girl"'s Facebook page, showed a confrontation Monday -- apparently in Tunis -- between protesters and riot police. Ben Mhenni also includes -- with an air of triumph -- a French newspaper article entitled "Le regime depasse par la cyberresistance" [the regime overtaken by cyber-resistance] as well as photos from Kasserine, one of the towns rocked by protests this week. Some of the photos show protesters holding U.S.-made tear-gas canisters.
Given the age and media-savvy of the protesters, it's perhaps not surprising that one of their heroes is a Tunisian rapper, Hamada ben Amor, also known as El General. A song he wrote (and which also was spread widely online) includes the lyrics "Mr. President, your people are dying." He was arrested last week in the city of Sfax after writing a song critical of the government. CNN has been unable to reach his family to confirm reports that he has since been released. Other critics, such as bloggers Slim Amamou and Azyz Amamy, have been silent for almost a week, and opposition sources believe they have been detained. (Slim Amamou's last tweet was on January 6.) And the Committee to Protect Journalists says that a reporter working for independent Radio Kalima in the coastal town of Chebba was detained on Tuesday.
Analysts says the protests have been driven by the high rate of youth unemployment in Tunisia (though officially the overall unemployment rate is 13 percent), with graduates very often unable to get anything but menial work. Writing in the London-based Asharq al Awsat, columnist Abdulrahman al Rashed said: "Because people in Tunisia regard elections as a political farce, the state's credibility is lost and unemployment becomes a medium of expression in the streets for want of another forum of expression." The protests began when an unemployed graduate had a confrontation with police trying to close his fruit stand, the only source of income for his family. Subsequently, he set himself on fire and later died.
For his part, President Zine al-Abidine Ben Ali has blamed "foreign elements" for stirring up trouble. But in an acknowledgment of the severity of the situation, Ben Ali has fired the interior minister and a curfew has been imposed in the capital after the protests spread there at the beginning of the week. The president -- who took power 23 years ago in a bloodless coup - also has promised investment to create 300,000 jobs over the next two years, but opponents say such promises have been made many times before, to little effect.
Tunisia's economy is actually in better shape than that of neighboring Algeria and other states in North Africa -- even though it has little of their oil revenues. Last year it registered respectable growth, and the International Monetary Fund endorsed the free-market policies and drive for foreign investment of the Ben Ali government. But the IMF noted in a report last year: "The country's key challenge is to boost job-generating growth and lower unemployment." And the economy would suffer if the protests spread to the Mediterranean resorts that sustain the country's tourism industry.
For Washington, the situation is awkward. Tunisia is a pro-western state supportive of U.S. policy in the Middle East and in the battle against terrorism. It has been a relatively stable country in what diplomats call "a rough neighborhood." The State Department has called for dialog, and spokesman P.J. Crowley told a briefing Wednesday that the United States was but "concerned about government actions, but we're also concerned about actions by the demonstrators, those who do not have peaceful intentions."
Recent diplomatic cables from the U.S. Embassy in Tunisia obtained by WikiLeaks reveal growing disquiet with the government -- and especially nepotism within the government. WikiLeaks published one cable from 2009 recounting a lavish dinner for the U.S. ambassador given by President Ben Ali's son-in-law, Mohamed Sakher El Materi, who is a prominent businessman. The ambassador wrote in the cable: "After dinner, he served ice cream and frozen yogurt he brought in by plane from Saint Tropez [a high-end French resort], along with blueberries and raspberries and fresh fruit and chocolate cake."
Ambassador Robert Godec continued in the cable: "El Materi has a large tiger on his compound, living in a cage. He acquired it when it was a few weeks old. The tiger consumes four chickens a day." As for Ben Ali's daughter, "Nesrine, at age 23, appeared friendly and interested, but nave and clueless. She reflected the very sheltered, privileged and wealthy life she has led." And the couple were about to move to an even grander residence. "Even more extravagant is their home still under construction in Sidi Bou Said. That residence, from its outward appearance, will be closer to a palace," says the ambassador before concluding with these words: "The opulence with which El Materi and Nesrine live and their behavior make clear why they and other members of Ben Ali's family are disliked and even hated by some Tunisians. The excesses of the Ben Ali family are growing."
Another cable from Ambassador Godec said: "For all the talk of a Tunisian economic miracle and all the positive statistics, the fact that Tunisia's own investors are steering clear speaks volumes. Corruption is the elephant in the room; it is the problem everyone knows about, but no one can publicly acknowledge."
Tunisia-watchers say the unanswered questions are whether essentially spontaneous protests, which the political opposition is following rather than leading, will persist and spread -- and what combination of carrot-and-stick by the government might defuse the situation. With a campaign of labor strikes looming over the next two days, it's clear that the government's measures so far have not taken the sting out of this explosion of discontent.