"Just because you assume or believe something to be true does not necessarily make it true." - Lady of Light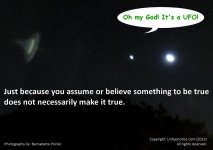 Beliefs are not truth. You can assume something and believe it, but no matter how much you want it to be true, you can't make it true; it either is or it isn't. Take this image for example. It was cropped from the original, but even if I had left the original it wouldn't change the light effect that was caught. By cropping this, it really does look like there may be some spacial anomaly going on above the houses and trees. I'm not even quite sure how it captured the way it is for the direction of where the light source was from. There is a street light off just to the right that I cropped out. To me, it looks as though there should be a light source where the "witch's hat" (that's what I'm calling it) is on the left because if you look well enough at the image there is more light (what looks like) coming off to the right in the same formation but spread further out much like what would happen with a flashlight. Obviously, from this image, things are not always as they seem and can be very deceiving, and if I didn't know better, I would "assume" and even maybe "believe" that I caught either a UFO or a space anomaly on camera while trying to capture the moon. It just goes to show you how things can be falsified and perceived to be something that they are not, and get people believing things that may not be true. This image is a wonderful example of that. If I wanted to be deceitful, I could try to pass it off as something else, but I've been saving it for the perfect caption. This one will do, for now.
I do believe this to just be a light effect that was caught with the camera, but I'm open to interpretation. Because of the direction of that "witch's hat", it does have me wondering however what that light is from. Although it looks like it SHOULD be the streetlight, the direction looks wrong to me for the shape. But, I'm far from being an expert and I stand at it's light and nothing more. I have the original if anyone wants to examine it. Not sure the date off hand (if necessary, I'll find out) but it was sometime last summer (late Summer 2012).