"
Warning:
Dressing like a slut will get you sex with anyone, not a relationship with the one you are trying to attract."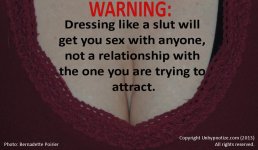 Dressing "slutty" or "sexy" is done (usually) because we are trying to attract a mate. Mate meaning a partner for life, not just someone to "mate with" (have sex with). So, why then do you need to dress this way and then complain when people stare at your "goods" when you don't want them too? You dress to attract a certain individual, or a certain type of individual, however, you attract EVERYONE's attention, even and especially the "creepy" people. You attract those looking for a quick "lay", someone only in it for the sex because that's how you make them feel when they look at you dressed that way.
If you want someone to love you for you, stop dressing in a manner that attracts everyone and start dressing in a way that attracts only those that you want. Let someone see you for you and not your body.
Yes, some rapes happen because of dressing "slutty", and that's because there are "sick" people out there whose thoughts and actions are triggered by what they see. Why give these people fuel for their 'illness'?
I guess the bottom line is, if you don't want anyone and everyone staring at you and trying to "get a piece of you", then dress appropriately. Don't dangle your raw steak in front of a pack of hungry wolves and expect them not to bite. The wolves will always bite if they're hungry. The wolf doesn't care about you, the wolf only cares about the steak.