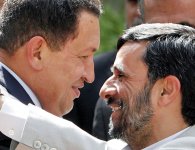 Iranian President Dr. Mahmoud Ahmadinejad along with more than two dozen head of states have arrived in Caracas to pay final respect to the most popular Latin American leader, Hugo Chavez. After hearing the sad news of Chavez's death on Tuesday, Ahmadinejad reportedly said in Persian that Chavez will return to defeat the Dajjal (Anti-Christ), who according to TV Evangelist Rev. Pat Robertson (2002) will be Jewish. Ahmadinejad was referring to Venezuelan vice-president Nicolas Maduro and foreign minister Elias Jaua claims that Chavez was injected with cancer by his enemies who failed to defeat him otherwise. However, the Zionist-controlled media mistranslated (as usual) Ahmadinejad' remark by translating "Dajal" into Jesus and Shia Imam Mehdi.
"They couldn't defeat him electorally, they couldn't assassinate him, they couldn't beat him militarily. Chavez died as president. Chavez died the leader of his people," declared a tearful Elias Jaua on Tuesday.
"He was invincible. He left victorious and no one can take that away. It is fixed in history," said Fidel Castro, one of Chavez's model role.
Just hours before the 58-year-old president's death on Tuesday, vice-president Maduro expelled two US diplomats and lashed out at opponents at home and abroad. He claimed that the cancer that ultimately killed president Hugo Chavez was somehow injected into him by his enemies.
The first head of state to arrive in Caracas, was Argentinian President Cristina Kirchner, who has been declared a Jew-hater by Israel lobby for signing an agreement with Tehran to let a third party investigate the bombing of a Jewish center and Israeli embassy in Buenos Aires. After paying her respects, she returned to Buenos Aires, and may not attend the funeral.
Millions of people deeply filled with sadness, accompanied Hugo Chavez on Tuesday from the hospital he died on Tuesday to Caracas Military Academy, where he is paid tributes by the mourning nation and foreign delegates representing 55 countries. See 18 photos of the farewell procession, here.
Venezuelan Vice President Nicolas Maduro, who is due to be sworn in as acting president on Friday, has declared seven additional days of mourning. According to recent polls, Maduro has a comfortable lead over pro-western opposition candidate, Henrique Capriles, who has Jewish family roots.
The Iranian government also declared one day of national mourning for the death of the late Venezuelan leader.
Lebanese Islamic Resistance in a condolence message called Chevez death "loss of a great friend".
Maduro also said after the funeral, Chavez's body will be embalmed "like Lenin", the Russian revolutionary leader, and put on display "for eternity" at a military museum.
Chavez death paved the way for a new vote in the South American nation that boasts the world's biggest oil reserves. But it is unclear when the election will be held. Many Venezuelans have yet to get past his death and think much about the future.
May Hugo Chavez soul rest in peace and his Revolution gets stronger and stronger each year.
Ahmadinejad attends Chavez funeral | Rehmat's World