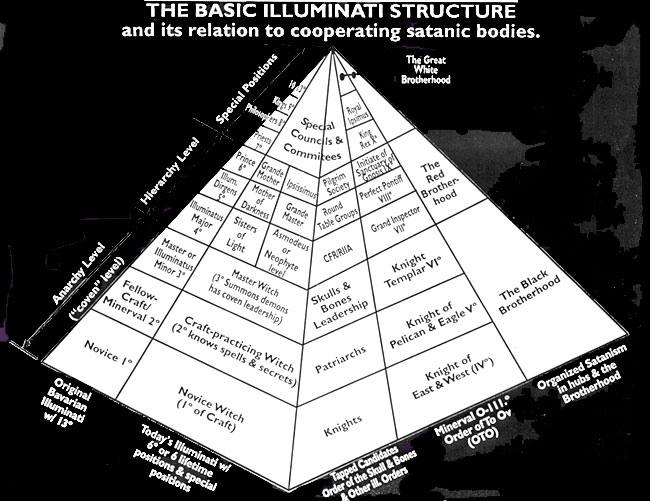 The Secret Societies have been present in the history of man for a very long time. It all started thousands of years ago with the "Brotherhood of the Snake", a secret society that goes back all the way to the time of Garden of Eden. The Illuminati consider Lucifer being their God and the Old Testament God Yahweh to be ours. Their opinion is that Lucifer gave man occult knowledge, while Yahweh tried to suppress the same for jealous reasons. Yahweh was more interested in controlling us than letting us have "free will", according to them. From this viewpoint Luciferianism was developed and is practiced within secret societies up until this day.
Research points in the direction that an "Alien Agenda" is on the Government's table as one among many other options to ring in a One World Government and a New World Order. They want to create an 'outside threat', a fake Alien Invasion, so that the countries of this world will be willing to unite as ONE, to fight the 'threat' from outer space. If this succeeds, the Illuminati Goal is completed! This is what we are getting prepared for in mass media right now, where they report more UFO sightings than perhaps ever before. Although there are ET societies visiting us on this planet off and on, both benevolent and malevolent in nature, they have no intention to "take over". It is a mix of both government vehicles and alien ships, but if there is an alien threat being presented by the government (including holograms of spaceships in the sky) we are not talking about an alien invasion, but an attempt to scare the world population into uniting so they can ring in the New World Order once and for all.
For your information, I have a whole UFOs and Alien section on my website, and I hope some of those article will help you with your own research.
(NOTE: If you, the reader, have a problem accepting the alien part of this agenda, feel free to exclude it from the picture for now, and please continue to read. You will most certainly find the evidence overwhelming on this website with- or without the alien involvement. The truth speaks for itself. However, if you still want to research the alien/interdimensional part of it all, I suggest you visit the Disclosure Project Website and watch The Disclosure Project Video. Approximately 500 government employees testify about the alien agenda and that the aliens are among us, and they are all willing to go to court to testify further, in public. Please continue to be skeptical while watching this video and exploring the website, but don't be skeptical beyond reason. The same goes for the information on this website of mine. The full testimonies of those 500+ government people are gathered in the book "The Disclosure Project", which can be ordered from their website. In the book are also actual classified documents, and "tons" of those can also be found at the Disclosure Project Website).
The Christian viewpoint on this is that the Illuminati in fact are decending from the fallen angels and the Giants that walked the Earth. Those Giants, according to the Bible, [Genesis, Chapter 6, verses 1 through 4], were the hybrid offspring of those fallen angels, who together with Lucifer were "cast out of Heaven" and came down to Earth. The fallen angels then interbred with mortal women here on Earth, and their offspring were the Nephilim, the Giants that walked the Earth. Thus, they were the results of a divine/mortal sexual union. The Nephilim are, according to the Bible, believed to be the descendants of famous rulers, outstanding leaders and mighty warriors who lived here before the Deluge. My own research has taught me that this is actually true, but has been misinterpreted. And interestingly, the offspring of these beings are still here, walking this Earth! As this website will show, these beings ARE the top of the Ruling Class!
The truth is; in the background, throughout all history, secret societies have been working without most people being aware of their importance and influence! The original Brotherhood of the Snake soon split up into cults, when certain people on top were in disagreement with each other. Different powers of control developed, where they fought against each other internally (which still is the case today), out of sight from an ignorant population. They invented the different religions and sects and cults so man would be busy doing something else instead of looking into what the Brotherhood actually was doing. They put themselves in charge of the churches to entrap people and to spread conflicts between different belief systems. Most wars throughout history, like most people know, have been religious wars.
Out of the original Brotherhood came Freemasonry, the Rosicrucian's, The Knights Templar, Ordo Templi Orientis, Knights of Malta, Skull & Bones and more. Some people may object and say that Freemasonry, for example, is a charity organization and even a Christian society. Yes, that's what we're told and that is what most members of the secret society believe. The vast majority of people involved are good people, who are ignorant of what is practiced on the highest levels; unaware of that up there in highest places is worship of the dark forces, practiced in very dark rituals, including human sacrifice. Their God is Lucifer, and their interaction and control are the keys to what is happening in the world of today.
There is a totally different struggle going on above people's heads than we are aware of, and this struggle affects our lives every day, and not in a good way, I may add. You can see the results all around you. Only because the human race is basically loving and caring, we still have decency in this world. But planet Earth has truly become much more negative than positive thanks to the Powers That Be and our own ignorance and inability to stop this from happening. Too many times we have looked the other way.
If you are a Freemason, 1° - 33°, and are reading this now, I strongly suggest you also read the article "Terminated! Freemasonry's Final Revelation" by Dr. Henry Makow, where he can tell you that being a Freemason is not the safest thing in the world. The top Masons on this planet are planning on terminating you together with most of the remaining population, until only about 500 million people remain. More about Depopulation Programs later in this article.